The Golden Hat-Trick
The Autobiography of Balbir Singh (Senior)
By Samuel Banerjee, Vikas Publishers, 1977
Page 1
Page 2
Page 3










Page 4
Page 5
Page 6

1951 Nationals

On a visit by the Indian team to New Zealand, the Maoris presented the team with a shield in appreciation of India's hockey wizardry. This became the official national trophy.

Undivided Punjab won the shield in 1946 and 1947. The shield was kept in Lahore.

After partition, the West Punjab authorities refused to return the shield to India. It is now symbolic of hockey supremacy in Pakistan.

Page 7
Page 8
Page 9
Page 10
Page 11
Page 12

little known fact about our national championship relates to the trophy given to the winners.
Between 1928, when it was first introduced, and 1944, the national hockey championships were held on a two-yearly basis. And surprisingly, for the first few years of the competition, there was no official trophy to give to the winners.
On a visit by the Indian team to New Zealand, the Maoris - the original natives of that country - presented the team with a shield in appreciation of India's hockey wizardry. This Maori shield became the official national trophy. The Maoris always had a special affection for India.
Undivided Punjab won the shield in 1946 and 1947. The shield was kept in Lahore, then the headquarters of the Punjab Hockey Association. After partition, the West Punjab authorities refused to return the shield to India. The Maori shield is now symbolic of hockey supremacy in Pakistan.
In 1951, the national championship once again got an official trophy - the handsome Rangaswamy Cup. It was donated by the Hindu in the name of one of its finest editors, a man who had himself been a lover of hockey.
For the 1951 nationals in Madras, Punjab was captained by Ram Swaroop. We won the championship for the third successive year. It was the first time any state or organisation had achieved that feat in the history of the national hockey championship.
Between 1946 and 1954, Punjab won the national hockey title on 6 of those 9 occasions - 1946, 1947, 1949, 1950, 1951 and in 1954. We were the runners-up in 1952 and 1953. All our six triumphs were earned in cities outside Punjab - Calcutta, Bombay, Delhi, Bhopal, Madras and Hyderabad.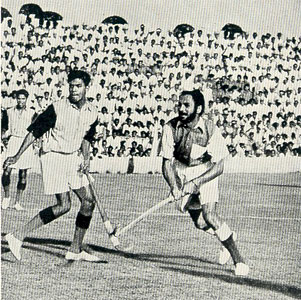 Punjab vs. Bengal (1954 Nationals)