Dhyan Chand - The Legend Lives On
Biography of Hockey Wizard Dhyan Chand
By Niket Bhushan, Wiley Eastern Ltd., 1992
Page 1
Page 2
Page 3










Page 4
Page 5
Page 6

Dhyan Chand-The Wizard

It was the final of the Punjab Indian infantry tournament in Jhelum in 1925. Dhyan Chand's team was losing the match with 4 minutes to go. His commanding officer said to him, "Come on Dhyan, we are 2 goals down, do something about it."

Dhyan Chand took the ball on his stick and dribbled through the entire defence to score a goal. He scored the second, and then the third to snatch a dramatic last minute victory.

Page 7
Page 8
Page 9
Page 10
Page 11
Page 12

rom 1922 to 1926, Dhyan Singh regularly represented his regiment in the army events. His first big tournament was the annual military tournament in Delhi. He shone as the centre-forward and helped his regiment win the prestigious annual military event. In 1923, he helped his regiment win the Meerut tournament. This performance convinced many that Dhyan Singh had a bright future in the game.
But Dhyan Singh had also to devote attention to army duties, and could not find enough time for practice. So while his regiment rested at night, he practised alone on the field with a ball and a stick. While they rested, his army mates could hear him hitting the ball at night. This was how Dhyan Singh became Dhyan Chand because he used to practise the game under moonlight.
It was during this period that an incident happened that became a part of the mystique of Dhyan Chand. It was the final of the Punjab Indian infantry tournament in Jhelum in 1925. Dhyan Chand's team was losing the match with 4 minutes to go. His commanding officer said to him, "Come on Dhyan, we are two goals down, do something about it."
Dhyan Chand took the ball on his stick and dribbled through the entire defence to score a goal. He scored the second, and then the third in a four-minute span to snatch a dramatic last minute victory.
It was after this match that Dhyan Chand earned the nickname "Hockey Wizard". The legend of Dhyan Chand and his unbelievable feats on the hockey field had begun.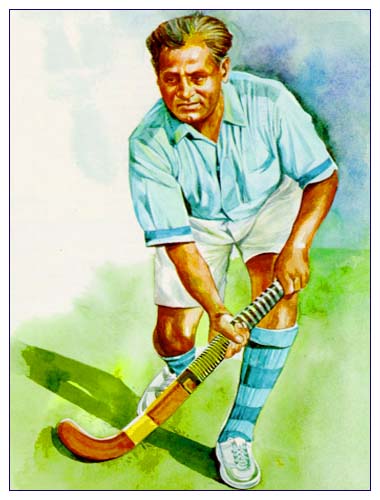 Dhyan Singh Becomes 'Hockey Wizard' Dhyan Chand