Dhyan Chand - The Legend Lives On
Biography of Hockey Wizard Dhyan Chand
By Niket Bhushan, Wiley Eastern Ltd., 1992
Page 1
Page 2
Page 3










Page 4
Page 5
Page 6

Typhoon From the East

A Los Angeles newspaper wrote, "The All-India field hockey team was like a typhoon out of the east. They trampled under their feet and all but shoved out of the Olympic stadium the eleven players representing the United States."

The Los Angeles Times wrote, "The Americans looked liked a junior team and were disjointed. Both Dhyan and Roop were an inspiration to the Indian side."

Page 7
Page 8
Page 9
Page 10
Page 11
Page 12

n August 4, 1932, India played against Japan and won 11-1. Dhyan Chand scored 4 goals, and Roop Singh 3. By half-time, India was ahead by 4 goals, leaving Japan no option but to play a defensive game.
Japan beat America 9-2 on August 6. India played America on August 11 to decide the gold medal. Some 5000 spectators and the local Indian population came to watch the match.
Dhyan Chand recounted the match in these words, "On August 11, we met the United States in the final match of the tournament. It was a cakewalk for us, and we won by 24 goals to 1. A few American players even suggested that to make it a contest, the Indians ought to play left-handed or wear snow shoes.
At the interval, we were leading by 10 goals to nil. Incidentally, the 24 goals was a world record. I scored 8 goals, Roop Singh 10, Gurmeet Singh 5 and Pinnegar 1. The lone American goal was scored by Bodlington."
One Los Angeles newspaper wrote, "The All-India field hockey team which G. D. Sondhi brought to Los Angeles to defend their 1928 Olympic title, was like a typhoon out of the east. They trampled under their feet and all but shoved out of the Olympic stadium the eleven players representing the United States."
The Los Angeles Times wrote, "The Americans looked liked a junior team and were disjointed. The Indian forwards made lightening flashes, and both Dhyan and Roop were an inspiration to the side."
Dhyan Chand and Roop Singh scored 25 out of the 35 goals scored by India. This gives an indication of the havoc the two brothers caused among the defenders. They were called the 'hockey twins'. Roop Singh, with his LA Olympic Pass No. 3770, proved his credentials with this display. He was as illustrious as Dhyan Chand.
A cartoon published in the Evening News of India showed Dhyan Chand's stick in the form of a cobra, and Dhyan Chand whistling in front of it like a snake charmer. The hockey stick expresses its feeling with American expressions like 'Gee Wiz'.
The Viceroy of India sent a cable congratulating the Indian team. It read, "I am delighted to learn of the splendid victory of our hockey team. Please give all members of the side my warm congratulations upon retaining the world championship."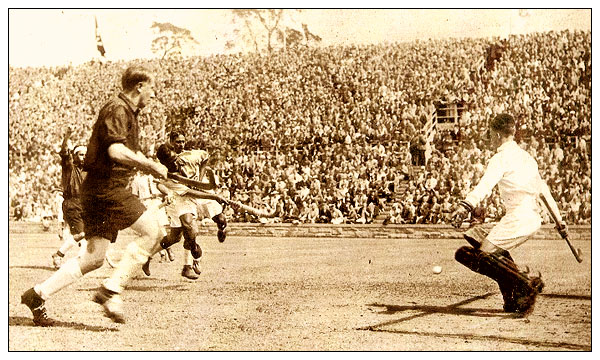 India vs. USA in the 1932 Los Angeles Olympics. India wins by a world record score of 24-1