Dhyan Chand - The Legend Lives On
Biography of Hockey Wizard Dhyan Chand
By Niket Bhushan, Wiley Eastern Ltd., 1992
Page 1
Page 2
Page 3










Page 4
Page 5
Page 6

Son Ashok Kumar

After India had lost an important match, on being asked the reason for India's defeat, Ashok remarked, "We were unlucky."

Hearing this, Dhyan Chand got angry and told him to have the guts to admit he played badly, and that the other team was better.

During his time, added Dhyan Chand, there was no such thing as luck because they used to practise hard.

Page 7
Page 8
Page 9
Page 10
Page 11
Page 12

urprisingly, Dhyan Chand never discussed hockey with his sons, nor did he encourage them to take up the game seriously. This was because he wanted his sons to study, as he himself had suffered from not being properly educated. He wanted his sons to lead a secure life. He thought they would find a good job if they studied hard.
Dhyan Chand took care not only of his family, but also for his elder brother Mool Singh. In those days, salaries were very low. Even as late as in 1963-64, Dhyan Chand used to earn just Rs. 400 per month.
Dhyan Chand's eldest son Brij Mohan played for his state, and later coached in Kota, Rajasthan. His other son, Raj Kumar was a good athlete in school and later played as a half in hockey, despite being a natural forward. Ashok Kumar was the only son of Dhyan Chand who brought glory to India in the tradition of his father.
Dhyan Chand did not like Ashok's style of play, and used to say that he dribbles too much. Ashok had moved up to the Mohan Bagan team, and from there got selected to the national team.
Once Ashok came back to Jhansi after India had lost an important match. On being asked the reason for India's defeat, Ashok remarked, "We were unlucky." Hearing this, Dhyan Chand got angry and said that he should have the guts to admit that he played badly and that the other team was better. During his time, added Dhyan Chand, there was no such thing as luck because they used to practise hard.
The first time that Dhyan Chand saw his son play international hockey was as late as 1974 during the Asian All-Stars game.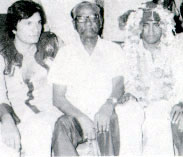 Aslam Sher Khan, Dhyan Chand and Ashok Kumar at the latter's wedding