Dhyan Chand - The Legend Lives On
Biography of Hockey Wizard Dhyan Chand
By Niket Bhushan, Wiley Eastern Ltd., 1992
Page 1
Page 2
Page 3










Page 4
Page 5
Page 6

Berlin Olympics Captain

There was great dismay when people read in the newspapers that Dhyan Chand was not in the team. People felt India was making a big mistake by not including such a great player.

The IHF again approached the Army, and this time they relented. Just a few days before the Indian team's departure, Dhyan Chand reached Delhi. Had Dhyan Chand not made it to the 1936 Berlin Olympics, Indian hockey might have taken a different course!

Page 7
Page 8
Page 9
Page 10
Page 11
Page 12

n 1936, as in 1932, the Inter-Provincial tournament was the basis for selection to the Olympic team. The Indian Hockey Federation (IHF) had written to the Army Sports Control Board requesting that Dhyan Chand be granted leave for participation in the selection trials. Yet again, the Army authorities refused permission due to Dhyan Chand's frontier posting.
By missing the trials, no player could be selected for the team. Consequently, Dhyan Chand's name did not figure in the list of players for the 1936 Berlin Olympics squad.
A big outcry resulted. There was great dismay when people read in the newspapers that Dhyan Chand was excluded from the team. People felt that India was making a big mistake by not including such a great player.
The IHF again approached the Army, and this time they relented. Just a few days before the Indian team's departure, Dhyan Chand reached Delhi. Had Dhyan Chand not made it to the 1936 Berlin Olympics, Indian hockey might have taken a different course!
The appointment of the Indian team captain was still pending. One nominee for the captaincy, Syed Mohammad Jafar, withdrew in Dhyan Chand's favour. The President of the IHF, Kunwar Jagdish Prasad, appointed Dhyan Chand as the captain.
Thus was fulfilled Dhyan Chand's lifelong ambition of leading India in the Olympics. Apart from Dhyan Chand, the only other player on his 3rd consecutive Olympic appearance was goalkeeper Richard James Allen.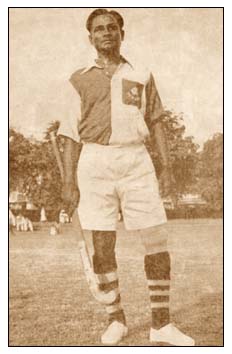 Berlin Olympics hockey captain Dhyan Chand