Dhyan Chand - The Legend Lives On
Biography of Hockey Wizard Dhyan Chand
By Niket Bhushan, Wiley Eastern Ltd., 1992
Page 1
Page 2
Page 3










Page 4
Page 5
Page 6

Road to the Final

The same evening, the much awaited A. I. S. Dara flew into Berlin, and there was jubilation in the Indian camp. Fielding Dara, India played France in the semi-finals on August 12, and won by 10 goals.

Meanwhile, Germany had whipped Denmark 6-0, beat Afghanistan 4-1 and in the play-offs, beat Holland 3-0. Thus India and Germany were to clash in the 1936 Berlin Olympics hockey final.

Page 7
Page 8
Page 9
Page 10
Page 11
Page 12

he Berlin Olympics hockey stadium was the best that Dhyan Chand had seen so far. The opening ceremony of the Games took place on August 1, with the giant airship Hindenberg dominating the ceremony.
Hitler had used the opening of these Games to show the world the supposed might of the Nazi Army. Huge swastikas lined up the massive stadium filled with 100,000 cheering spectators. A controversy arose with some teams saluting Hitler and some not acknowledging the dictator during the march past. Rung during the opening ceremony was a massive bell weighing 14,000 kgs (tons).
Hitler received an olive branch from Spyridion Louis, the Greek winner of the marathon in the first modern Olympics in Athens in 1896. An Olympic torch got lit for the first time with the help of the sun's rays. Overall, the arrangements were superb, and in use were the latest technology and communication systems.
In their first match on August 5, India played Hungary and won 4-0. The Hungarian defense and their goalkeper kept the score down. Handicapped in their movements because it had started to rain after the opening whistle, the Indian forwards found the ground soggy.
On August 7, in good weather and ground conditions, India played USA and beat them 7-0. India then played Japan on August 10, and beat them 9-0. Japan had picked up a lot from India since the last Olympics, and no goal was scored in the first twenty minutes of play.
The same evening, the much awaited A. I. S. Dara flew into Berlin, and there was jubilation in the Indian camp. Fielding Dara, India played France in the semi-finals on August 12, and won by 10 goals. Dara scored 2 goals, Dhyan Chand scored 4 goals, and Roop Singh hit in 2 goals.
Meanwhile, Germany had whipped Denmark 6-0, beat Afghanistan 4-1 and in the play-offs, beat Holland 3-0.
Thus India and Germany were to clash in the 1936 Berlin Olympics hockey final. The hockey world was about to see Dhyan Chand in one of his most memorable and mesmerising displays on the hockey field.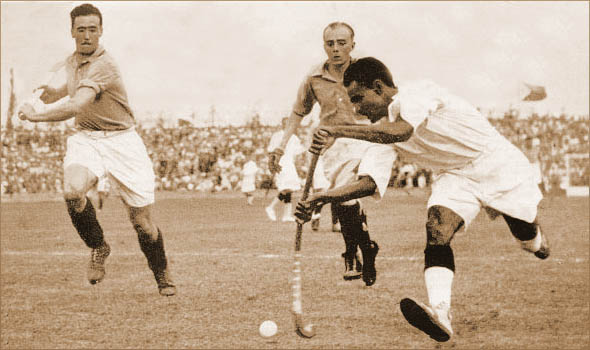 Dhyan Chand in Action against France in the 1936 Berlin Olympics Hockey Semi-Finals