Dhyan Chand - The Legend Lives On
Biography of Hockey Wizard Dhyan Chand
By Niket Bhushan, Wiley Eastern Ltd., 1992
Page 1
Page 2
Page 3










Page 4
Page 5
Page 6

The Wizard and Hitler

In the morning Dhyan Chand went to meet Hitler. The German dictator welcomed Dhyan Chand warmly in his private box and showed him his view of the stadium.

Hitler asked Dhyan Chand what he did in India. Dhyan Chand replied that he was a soldier in the Indian army. Hitler offered him a high post in the German army and requested him to come and live in Germany.

Page 7
Page 8
Page 9
Page 10
Page 11
Page 12

he 1936 Berlin Olympics final was watched by a crowd of 40,000 that included top Nazi officials like Hermann Goering, Joseph Goebbels, Joachim Ribbentrop and the Fuehrer, Adolf Hitler.
When the match ended with India defeating Germany 8-1, there was complete silence over the vast stadium. Hitler was to have presented the gold medals to the Indian team, but Hitler had left earlier, in frustration and in anger.
The next day, Hitler asked to see Dhyan Chand. When he received this message, Dhyan Chand became very worried. He had heard stories of how Hitler used to get people shot as he was a dictator. Dhyan Chand could not eat properly and spent a sleepless night.
In the morning Dhyan Chand went to meet Hitler. The German dictator welcomed Dhyan Chand warmly in his private box and showed him his view of the stadium.
Hitler asked Dhyan Chand what he did in India. Dhyan Chand replied that he was a soldier in the Indian army. Hitler offered him a high post in the German army and requested him to come and live in Germany.
Dhyan Chand politely refused, saying that his family is settled in India, and it will be difficult for him to relocate to Germany. Hitler said he understood his position and ended the meeting.
Dhyan Chand is probably the first position to meet Hitler personally. There are many accounts of Dhyan Chand's famous meeting with Hitler, but this is what he had recounted to his family and close friends.
On a final note, there was a grand banquet after the closing ceremony at which Hitler was also present. The Indian hockey team kept its distance from Hitler, not daring to even look at him, leave alone talk to him.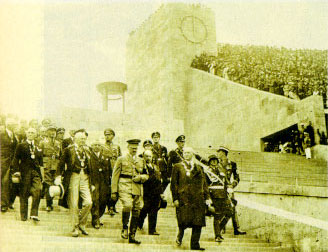 Hitler at the Berlin Olympics