Dhyan Chand - The Legend Lives On
Biography of Hockey Wizard Dhyan Chand
By Niket Bhushan, Wiley Eastern Ltd., 1992
Page 1
Page 2
Page 3










Page 4
Page 5
Page 6

ill-Treatment by the IHF

In 1982, when India hosted its only World Cup, the tournament brochure brought out by India did not even mention Dhyan Chand.

Ironically, India's arch rival Pakistan highlighted his supremacy in world hockey, prominently displaying his picture with Dara.

The reality is that while Dhyan Chand was alive, the IHF did little or nothing for him - the country's and the game's greatest player.

Page 7
Page 8
Page 9
Page 10
Page 11
Page 12

hyan Chand had a skirmish with the president of the Indian Hockey Federation (IHF), a police officer by name Jimmy Nagarvala. Once while Dhyan Chand was coaching, Nagarvala objected to his coaching methods.
At this, Dhyan Chand made it clear to the IHF president that if he wanted to coach the boys, he could go ahead and do so, but if Dhyan Chand was the coach, he would do it his way.
In 1948, when Dhyan Chand brought back a young Indian team from an East African tour, he was sad to see that there was no one to greet them on their return. The IHF did not even hold an official reception for the team. Dhyan Chand felt that such actions would affect the morale of the young players.
In 1982, when India hosted its only World Cup, the tournament brochure brought out by India did not even mention Dhyan Chand. Ironically, India's arch rival Pakistan highlighted Dhyan Chand's supremacy in world hockey. A picture of Dara and Dhyan Chand taken in 1974 was prominent in their publication.
The reality is that while Dhyan Chand was alive, the IHF did little or nothing for him - the country's and the game's greatest hockey player.
Though Dhyan Chand was honoured with the Padma Bhushan, what about the financial hardships that Dhyan Chand and his family had to go through. Who came to the help of Dhyan Chand after he had given the best years of his life for his country? What about the respect and prominence that was due to a player like Dhyan Chand? What do we tell our children and grandchildren about Dhyan Chand if they ask us about him?
It is very poignant that while Dhyan Chand got respect and admiration from the West, he received pathetic treatment from his homeland. Whatever help Dhyan Chand got was from the British army officers who encouraged him from the beginning and promoted him just because of his hockey.
Once when General Cariappa was visiting Australia, he got a request to send Dhyan Chand to coach hockey in that country. Dhyan Chand refused to leave his beloved India. Seeing the difficult economic conditions for his family in his later life, Dhyan Chand perhaps regretted his decision. Had he taken up the Australian offer, his family would have been financially comfortable.
After India won its independence, except for a brief coaching stint and as a selector, Dhyan Chand was largely ignored and shunted out of the limelight. Not that he wanted prominence. His experience, his skill, his knowledge and his expertise would have surely helped Indian hockey. India never drew out the best of Dhyan Chand after his retirement, and this was a big misfortune.
In contrast, Pakistan was made into a major power in world hockey by Dhyan Chand's teammate A. I. S. Dara. Despite having no infrastructure in the newly created country of Pakistan, Dara made that country into a world power. One can only imagine where Dhyan Chand could have taken Indian hockey after retirement.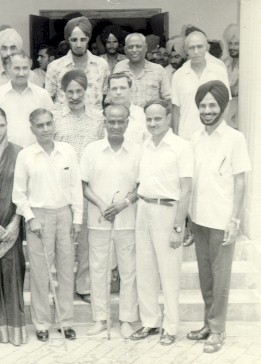 Dhyan Chand with 6 other Olympians, 4 of them India Captains like him