Dhyan Chand - The Legend Lives On
Biography of Hockey Wizard Dhyan Chand
By Niket Bhushan, Wiley Eastern Ltd., 1992
Page 1
Page 2
Page 3










Page 4
Page 5
Page 6

Last Days Of

Dhyan Chand

His doctor asked him, "What is the future of Indian hockey?" Dhyan Chand replied, "Hockey in India is finished. Our boys just want to eat. They don't want to work."

Shortly after saying this, Dhyan Chand relapsed into a coma, and died a few hours later on December 3, 1979. He was cremated at the Jhansi Heroes ground in his hometown. Dhyan Chand's regiment, the Punjab Regiment, accorded him full military honours.

Page 7
Page 8
Page 9
Page 10
Page 11
Page 12

uring his last years, Dhyan Chand was disillusioned by the state of Indian hockey. He used to say, "Hindustan ki hockey khatam ho gayi hai. Khiladiyon mein devotion nahin hai. Will to win khatam ho gaya hai."
Towards the end, Dhyan Chand had many health problems. He felt sad, perhaps bitter, about the way his countrymen, the government and the hockey federation treated him.
Two months before he died, Dhyan Chand made a remark that indicated of his state of mind, "When I die, the world will cry, but India's people will not shed a tear for me, I know them."
Some six months before he passed away, a friend of Dhyan Chand, Pandit Vaidyanath Sharma, proposed a world tour for him. He hoped that this would renew Dhyan Chand's friendship with hockey lovers in Europe and USA, and bring the legend back into public memory. Even the air tickets were purchased, but Dhyan Chand was not in a position to go.
Dhyan Chand's friends advised him to come to the West for his medical treatment, but Dhyan Chand did not go, saying that he had seen the world.
In late 1979, Ashok Kumar was playing hockey when he was informed of his father's serious condition. Brought to Delhi from Jhansi by train, Dhyan Chand was admitted to the All-India Institute of Medical Sciences.
Even in his last days, Dhyan Chand could not help talking about hockey. He reminded his family to take care of his medals and make sure no one came into his room and stole them. This was because someone had earlier pinched some medals from his room. In addition, his Olympic gold medals got stolen once from an exhibition in Jhansi.
He told his son Raj Kumar that high standards of hockey were no longer being kept in India. He felt very sad at the decline in Indian hockey.
His doctor once asked him, "What is the future of Indian hockey?" To which Dhyan Chand replied, "Hockey in India is finished."
"Why is it so?" asked the doctor. Dhyan Chand replied, "Our boys just want to eat. They don't want to work."
Shortly after saying this, Dhyan Chand relapsed into a coma, and died a few hours later on December 3, 1979. He was cremated at the Jhansi Heroes ground in his hometown, after some initial problems in getting clearance. Dhyan Chand's regiment, the Punjab Regiment, accorded him full military honours.
Ashok suffered the final insult from Indian hockey officials who refused to let him attend the camp for the 1980 Moscow Olympics. He had been late as he was completing the duties after his father's death. In sheer disgust, Ashok Kumar announced his retirement from hockey.
A statue of Dhyan Chand in action was installed at the Jhansi Heroes ground. Beneath it are the words, "National Pride, Hockey Wizard, Major Dhyan Chand."
Today, below the statue of Dhyan Chand in Jhansi, idle youth gamble, play cards and take 'ganja'. This is the same spot where Dhyan Chand was cremated. This is Indian hockey's tribute to the greatest player of the game.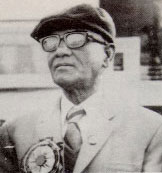 Dhyan Chand a few years before his death