Dhyan Chand - The Legend Lives On
Biography of Hockey Wizard Dhyan Chand
By Niket Bhushan, Wiley Eastern Ltd., 1992
Page 1
Page 2
Page 3










Page 4
Page 5
Page 6

Dhyan Chand

Chronology

1932 - India regains the gold at the Los Angeles Olympics, beating USA 24-1 in the final, a world record. Dhyan Chand scores 133 out of India's 338 on this world tour.

1936 - Appointed captain for the 1936 Berlin Olympics. Leads India to a great victory over Germany in the final. Dhyan Chand and Roop Singh score 11 goals each out of India's total of 38 in the Olympics. Dhyan Chand scores 59 goals out of India's 175 on the world tour.

Page 7
Page 8
Page 9
Page 10
Page 11
Page 12

hyan Chand's illustrious hockey career is given below:
August 29, 1904
Born in Allahabad.
1922
Joins the Army.
1922 - 26
Hockey confined to Army tournaments.
April 1926
Dhyan Chand makes his international debut with India's successful tour of New Zealand.
1928
India wins the Olympic hockey gold on its debut at the Amsterdam Olympics.
1932
India regains the gold medal at the Los Angeles Olympics, beating USA 24-1 in the final, a world record. Dhyan Chand scores 133 goals out of India's 338 on this world tour.
March 2, 1934
Appointed captain of India for the Western Asiatic Games.
Apr 13 - Sep 10, 1935
Tours New Zealand and Australia. Dhyan Chand scores 201 goals out of India's 584. Brother Roop Singh scores 185 goals.
1936
Appointed captain for the 1936 Berlin Olympics. Leads India to a great victory over Germany in the final. Dhyan Chand and Roop Singh score 11 goals each out of India's total of 38 goals in the Berlin Olympic hockey tournament. Dhyan Chand scores 59 goals out of India's 175 on the world tour.
Dec 1947 - early 1948
Appointed captain for the tour of East Africa. Dhyan Chand scores 61 goals in 22 matches, at the age of 43!
1949
After a hockey career that lasted 30 years, Dhyan Chand retires from hockey.
1956
Awarded the Padma Bhushan by the Government of India. Dhyan Chand remains the only hockey played to have been awarded the Padma Bhushan
December 3, 1979
Passes away in New Delhi.
December 4, 1980
Government of India issues a commemorative postage stamp and a First Day Cover in honour of Dhyan Chand. He remains the only Indian hockey player to have a stamp in his honour.
Number of Goals Accounted For : 395
This figure does not include goals in the Army tournaments, for his club Jhansi Heroes in domestic tournaments, goals in the 1926 tour of New Zealand, the ones in practice matches before the Olympics, and the goals in the many matches on the world tours. The total figure is estimated to exceed 1000 goals.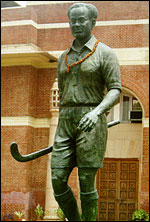 Dhyan Chand's statue at the National Hockey Stadium in Delhi