Dhyan Chand - The Legend Lives On
Biography of Hockey Wizard Dhyan Chand
By Niket Bhushan, Wiley Eastern Ltd., 1992
Page 1
Page 2
Page 3










Page 4
Page 5
Page 6

The Wizard and the Don

Bradman came to City Hall to meet the Indian team and had a picture taken with Dhyan Chand, a memento he cherished all his life.

In the evening, India played a hockey match at the cricket ground. So impressed was Bradman by Dhyan Chand's play that he told him, "You score goals like runs in cricket."

Dhyan Chand rated his meeting with the Don as one of the most exciting moments of his life.

Page 7
Page 8
Page 9
Page 10
Page 11
Page 12

he 1935 tour of New Zealand also marked the first ever visit of an Indian hockey team to Australia. India's debut match in Australia was watched by nearly 3000 people.
At Adelaide on May 2, India beat South Australia 10-1. Earlier on that day, manager Pankaj Gupta asked the Lord Mayor at a function if his team could meet the cricketing legend Don Bradman.
Bradman came to City Hall to meet the Indian team and had a picture taken with Dhyan Chand, a memento which Dhyan Chand cherished all his life.
In the evening, at the cricket ground, India played a match, which was Bradman's first hockey match. So impressed was Bradman by Dhyan Chand's style of play that he told him, "You score goals like runs in cricket."
Years later, Dhyan Chand would rate his appointment as the 1936 Berlin Olympics captain and his meeting with Don Bradman as the two most exciting moments of his life.
Dhyan Chand's other encounters with cricketers were with Douglas Jardine, Vizzy and Nawab of Pataudi Sr.
In 1936, when the victorious Indian Olympic team was returning from Berlin, they stopped over in London where they met Douglas Jardine, famous for his role in the 'Bodyline' controversy. Jardine stopped his car and posed for a picture with Dhyan Chand and Roop Singh.
The streamer Strathmore that was carrying the 1936 Indian Olympic team from London back to Bombay had a number of celebrities. Among them was the Maharajakumar of Vizianagaram. 'Vizzy' was the captain of the Indian cricket team that had just toured England. Dhyan Chand posed for a photograph with Vizzy on the deck.
Another sporting celebrity on the ship back home, Nawab of Patadui Sr., was already familiar to Dhyan Chand. They had played together in the 1928 Amsterdam Olympics, where India had won its first Olympic gold medal.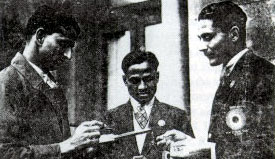 Dhyan Chand & team-mates signing autographs to raise money for the 1935 tour of NZ & Australia