Dhyan Chand - The Legend Lives On
Biography of Hockey Wizard Dhyan Chand
By Niket Bhushan, Wiley Eastern Ltd., 1992
Page 1
Page 2
Page 3










Page 4
Page 5
Page 6

Friendship with Dara

Cricket may affectionately recall its Grace, Hobbs and Bradman, and soccer its Matthews and Puskas, but hockey has one and only one Dhyan Chand, the all-time great of hockey.

Dhyan was referred to by one superlative after another - Juggler, Magician, Wizard. Whatever he was called, there was no doubt that this lightly-built hockey genius was a giant among players.

Page 7
Page 8
Page 9
Page 10
Page 11
Page 12

li Iqtidar Shah Dara had played with Dhyan Chand in the 1936 Berlin Olympics. Dara had scored 2 goals and Dhyan Chand 3 goals in the memorable Berlin Olympics hockey final, where India beat Germany 8-1.
After independence and partition, Dara moved to Pakistan. Dara was the man who built Pakistani hockey and took it to the highest pinnacle. Whenever Pakistan would win, Dhyan Chand would say, "Dara is doing a good job for Pakistan hockey." In turn, Dara had genuine respect and admiration for Dhyan Chand.
The first sporting contact between India and Pakistan after the 1971 Bangladesh Liberation War as the Asian All-Stars team of 1974. Dara was the one who organised the event. When the All-Stars team played in India, Dara called his friend Dhyan Chand from Jhansi to Delhi. Both were overjoyed at meeting each other, and talked of the old times.
Dara wrote an article for World Hockey (March-May 1970) entitled 'Dhyan Chand - The Indian Wizard'. In the article he wrote:
Cricket may affectionately recall its Grace, Hobbs and Bradman, and soccer its Matthews and Puskas, but hockey has one and only one Dhyan Chand, incomparable and unique. There can be no argument about the claims of this maestro as the all-time great of hockey.

In his peak playing days before World War II, Dhyan was referred to by one superlative after another - Juggler, Magician, Wizard. Whatever he was called, there was no doubt that this lightly-built hockey genius was a giant among players.

I had the privilege to play under him for India, and also against him as we belonged to the same regiment in the army. He was a thorough gentleman and a true sportsman who never lost his temper.

A sports club in Vienna built a statue showing Dhyan Chand with four hands and four hockey sticks, as if he were some sort of deity. To those Viennese at least, he certainly was because they said no ordinary man with two hands and one stick could play so well!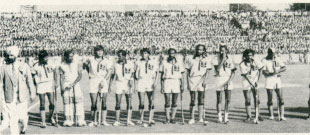 Indian team vs. the Asian All-Stars in Delhi