Dhyan Chand - The Legend Lives On
Biography of Hockey Wizard Dhyan Chand
By Niket Bhushan, Wiley Eastern Ltd., 1992
Page 1
Page 2
Page 3










Page 4
Page 5
Page 6

K. L. Saighal Sings

For Dhyan Chand

Roop Singh then asked Saighal if he would sing as many songs as the goals they would score. Saighal agreed.

In the second half, the brothers combined to score 12 goals. Saighal, however, had left the stadium before the final whistle.

Roop Singh asked Prithviraj as to who would sing the songs now, and they all had a good laugh about Saighal's disappearing act.

Page 7
Page 8
Page 9
Page 10
Page 11
Page 12

his incident happened around 1937-38, and involved Dhyan Chand and Kundan Lal Saighal, the great singer and actor. Prithviraj Kapoor, the father of Raj Kapoor, was a great fan of Dhyan Chand. Once at a match in Bombay, Prithviraj brought Saighal to see Dhyan Chand in action.
Till half-time there was no score. Saighal remarked to Dhyan Chand that he had heard a lot about him, and was surprised to see that the two brothers Roop Singh and Dhyan Chand had been unable to score thus far.
Roop Singh then asked Saighal if he would sing as many songs as the goals they would score. Saighal agreed.
In the second half, both the brothers combined to score 12 goals - Dhyan Chand eight and Roop Singh four. Saighal, however, had left the stadium before the final whistle.
Dhyan Chand asked Prithviraj about the whereabouts of the singer. Roop Singh asked as to who would sing the songs now, and they all had a good laugh about Saighal's disappearing act.
The next day, Saighal sent his car for the team members to come to his studio. However, when they arrived, he informed them that he was in no mood to sing that morning. Dhyan Chand remarked that they had wasted their time as they had a match that evening.
The next day, Saighal himself came to the team's quarters and sang 14 songs! He also presented a watch to each of the players, a very big gift in those days.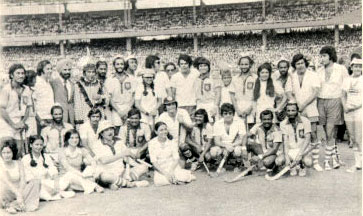 Till the 1970s, hockey, not cricket, was the favoured sport of the film stars