Dhyan Chand - The Legend Lives On
Biography of Hockey Wizard Dhyan Chand
By Niket Bhushan, Wiley Eastern Ltd., 1992
Page 1
Page 2
Page 3










Page 4
Page 5
Page 6

Meetings With

Prime Ministers

India's first prime minister Pandit Jawaharlal Nehru made an interesting remark on seeing the many medals on Dhyan Chand's chest.

"Dada Dhyan Chand, you have so many medals, please give me one so that I can also put it on and look like a player."

Dhyan Chand replied, "On you, Nehruji, the rose looks very good."

Page 7
Page 8
Page 9
Page 10
Page 11
Page 12

hen Dhyan Chand was honoured with the Padma Bhushan in 1956, he went to Rashtrapati Bhavan to receive the honour from President Rajendra Prasad.
India's first prime minister Pandit Jawaharlal Nehru made an interesting remark on seeing the many medals on Dhyan Chand's chest. "Dada Dhyan Chand, you have so many medals, please give me one so that I can also put it on and look like a player."
Dhyan Chand replied, "On you, Nehruji, the rose looks very good."
Another treasured moment in Dhyan Chand's life was when he met prime minister Smt. Indira Gandhi in 1974. The Asian All-Stars hockey team was in India. A. I. S. Dara, Dhyan Chand and the All-Stars team met the prime minister for morning tea. Mrs. Gandhi told them that sporting contacts could break barriers and solve many problems between countries.
This was indeed true for the 1974 All-Stars team comprising Indian, Pakistani and Malaysian players was the first sporting contact between India and Pakistan after the 1971 Bangladesh Liberation War.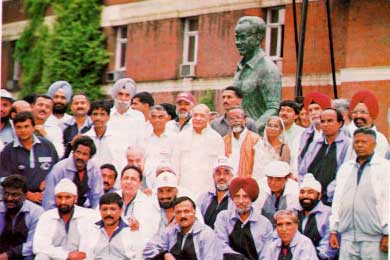 Olympians with prime minister Narasimha Rao in front of Dhyan Chand's statue at National Stadium