Dhyan Chand - The Legend Lives On
Biography of Hockey Wizard Dhyan Chand
By Niket Bhushan, Wiley Eastern Ltd., 1992
Page 1
Page 2
Page 3










Page 4
Page 5
Page 6

Dhyan Chand and Royalty

The Nawab got so upset that he ordered his players to undress. Dhyan Chand got very angry at the treatment the Nawab was meting to his players.

Dhyan Chand told the Nawab that both victory and defeat are a part of sports, and that the results should not be taken in such a way as to inflict humiliation on the players. He persuaded the Nawab to apologise to his players.

Page 7
Page 8
Page 9
Page 10
Page 11
Page 12

n the days before independence, sports like cricket and hockey were patronised by the kings, princes and nawabs. The Maharaja of Gwalior instituted the Scindia Gold Cup hockey tournament. The Nawab of Bhopal instituted the Obaidullah Khan Gold Cup hockey tournament. The 1936 Berlin Olympics hockey final was witnessed by the Maharaja of Baroda.
When the Indian team participated in the Western Asiatic Games, the Nawab of Manavdar played under the captaincy of Dhyan Chand. It was uncommon in those days for a ruling prince to play under a commoner. The Nawab of Manavdar would later take an Indian team on a tour of New Zealand in 1938.
The Nawab of Pataudi Sr. played for India in the 1928 Amsterdam Olympics along with Dhyan Chand, helping India win its first Olympic hockey gold medal.
Dhyan Chand's another brush with royalty was in 1936. The streamer Strathmore that was carrying the Indian Olympic team from London to Bombay had among its passengers the Maharajakumar of Vizianagaram. Vizzy was the captain of the Indian cricket team that had just toured England. Dhyan Chand posed for a photograph with Vizzy on the deck
Once Dhyan Chand took his team Jhansi Heroes to Kurwai. The Nawab of Kurwai wanted his team to beat Jhansi Heroes, as it was one of the best teams in India those days.
Jhansi Heroes ended up beat the Nawab's team by six goals. The Nawab got so upset that he ordered his players to undress. Dhyan Chand got very angry at the treatment the Nawab was meting to his players.
Dhyan Chand told the Nawab that both victory and defeat are a part of sports, and that the results should not be taken in such a way as to inflict humiliation on the players. He persuaded the Nawab to apologise to his players.
In December 1931, Dhyan Chand led Jhansi Heroes to victory against Manavdar State. The Nawab Sahib of Kurwai presented a 'Khillat' to Dhyan Chand, remarking that he was too big a player to receive just an ordinary medal.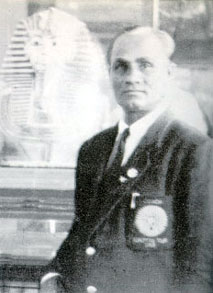 Dhyan Chand in Egypt