Dhyan Chand - The Legend Lives On
Biography of Hockey Wizard Dhyan Chand
By Niket Bhushan, Wiley Eastern Ltd., 1992
Page 1
Page 2
Page 3










Page 4
Page 5
Page 6

Nemesis of Goalkeepers

During a coaching camp in Patiala, he called out to Indian goalkeeper Shankar Lakshman.

Once Lakshman took up his position, Dhyan Chand went to the top of the circle and said, "Try to stop ten hits of mine from here."

One by one, Dhyan Chand tossed the ball from one hand and hit it on the half volley. Lakshman, India's best goalkeeper, was unable to stop a single shot.

Page 7
Page 8
Page 9
Page 10
Page 11
Page 12

hyan Chand's most successful tour was the 1935 tour of New Zealand and Australia. He scored a massive 201 goals in just 43 matches, a possible world record.
Sometime in the 1970s, when Dhyan Chand's son Ashok Kumar toured New Zealand, an old goalkeeper on a wheelchair met him. He told Ashok, "Your father was a marvel. I saved his first shot at goal by diving full length to my right. The second shot at goal was far to my left. I dived and saved yet again.
Then Dhyan Chand said - if you save my next shot, I will stop playing hockey. True to his word, on his next possession, Dhyan Chand hit a scorcher right over my head to the centre of the net. The gap between my head and the bar was very little but the ball went through into the goal."
During a coaching camp in Patiala, he once called out to the Indian goalkeeper Shankar Lakshman, "Arre aa na Lakshman, aa goal mein khada ho ja."
Once Lakshman took up his position, Dhyan Chand went to the top of the circle and said, "I am going to make ten hits from here. Let me see you stop any shot."
One by one, Dhyan Chand tossed the ball from one hand and hit it on the half volley. Lakshman, India's best goalkeeper, was unable to stop a single shot.
Once as the chief coach, he was conducting a training camp for women's hockey players. One of them, a goalkeeper from Delhi called Leslie Cooper said, "Dada, I have heard that you were a great player in your time. I will stand in the goal and you try to score against me."
Dhyan Chand was angry but he just said, "Ladki, go stand in the goal." After the goalkeeper took up her position, Dhyan Chand, even at that age, shot six times like lightening from the 25-yard line into the goal.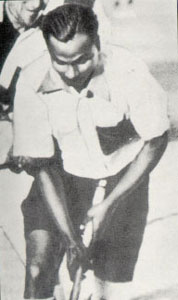 Dhyan Chand - the nemesis of goalkeepers